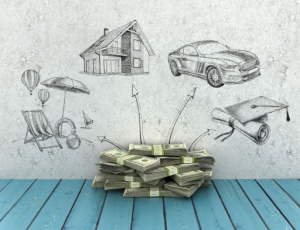 The many uses of personal loans
Personal, fixed interest, and installment loans all mean the same thing. You take out a specific amount of money at a set interest rate and agree to repay it over a certain period. These types of loans don't require collateral and are often slightly higher interest than your collateral-based loans, but not higher than credit cards. What can you take out these kinds of loans for? 

Medical Bills: Do you have piles of medical bills you can't seem to come out from under? Have an upcoming surgery you can't pay outright or don't want to finance with the medical company?

This is where a personal loan would benefit you. Personal loans get you cash fast when you need it, whether to pay off medical bills or to help offset if not completely pay for new ones. A personal loan can help give you peace of mind knowing your expenses are covered while maintaining a manageable monthly payment.

Vacation: Have an upcoming trip to a theme park? Going out of state to see family?

A personal loan can be just the vacation financing you need. Whether you're flying out of the country or just to another state, a personal loan can help you cover expenses from flying to a hotel and much more. Don't stress about a vacation you're supposed to enjoy; finance it and relax knowing you're good to go.

Emergency: Have an unexpected loss? An emergency doctor or vet bill? How about an unexpected car or house repair?

These costs can add up quickly, and if you weren't budgeting for them, they could cost you more than you think. A personal loan can help give you a quick fix during a time of uncertainty, and the best part is with FCCU, most personal loans can be funded within a matter of hours, getting you access to the funds ASAP.

House Updates: Moving into a new place and needing new furniture? Want to update your counters?

These are just a few examples of house repairs or updates for which you can use a personal loan. Often if the repairs/updates are less than $10,000, many people choose the personal loan route versus the home equity loan route.

Back to School Costs: Starting your first year of college and need help getting everything from dorm décor to textbooks? Sending your little one off to kindergarten and needing help getting the basics?

A personal loan can be just the thing to help take some of those nerves of starting a new year away. Giving you one monthly payment to help cover all the costs and a few years to repay the expenses, a personal loan can be just the thing to help get your year started right.

Often times we think personal loans are just to finance specific items or for particular circumstances when really you can use a personal loan for just about anything. Don't hesitate to apply or ask your credit union representative if a personal loan is right for you.
---