Free checking gives you complete control of your funds, your way, without the hassle of monthly fees.

Enjoy all of the benefits of First Community for free!
Free mobile and online banking
No minimum balance required
No monthly fee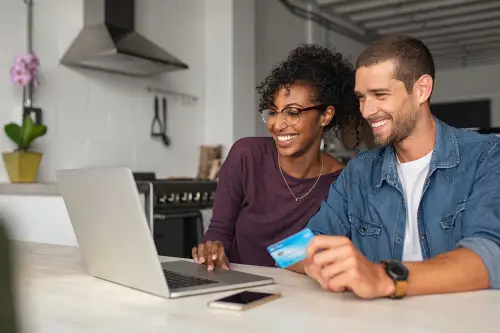 Here's what you get with all FCCU checking accounts
Free debit card with Visa's Zero Liability Fraud Protection
Online and Mobile Banking with access to Mobile Deposits, eStatements and more
Fraud protection and card controls with FCCU Card Manager
Overdraft Options

*

 to make sure you're covered
Tap to Pay for quick purchases with an FCCU Visa Debit Card
Can I withdraw cash over $10,000?
Can I withdraw cash over $10,000?
Yes, if you have the funds available and choose to withdraw the funds in the form of cash, we ask that you call us 3 business days ahead of time so we can arrange to have the funds on-site. We recommend you consider taking large sums of money in the form of a certified check as this is safer than having large sums of cash on you. If you choose to take a check, no advance notice is needed. However, if you would like cash, call us at 281.856.5300 and provide us with the which branch, the amount and when you will be by to withdraw the funds.
How do I sign up for eStatements?
How do I sign up for eStatements?
Login to FCCU Online Banking
From the left menu, click on services
Click on eStatements
Follow the prompts to make a profile
At Document Delivery Reference, select All Electronic
Select Save and you are now enrolled in eStatements
Can a minor open a bank account?
Can a minor open a bank account?
Youth Accounts must be opened by a parent or legal guardian.
*Overdraft Options are available on most FCCU consumer checking accounts being maintained in good standing and the member is 18 or older. Standard Overdraft Practices automatically come with most accounts. For debit and ATM transactions to be covered, you must Opt-in to Enhanced Overdraft Privilege. Overdraft Transfers are an option. Nominal fees on a tiered structure of $10 for the first overdraft, $28 for the second through fourth transactions and $35 for the fifth transaction and beyond in a 12-month rolling period may apply for the service selected. Overdrafts must be covered to bring the account to a positive status within 30 days to avoid further action being taken. First Community reserves the right to decline to pay any transaction if a loss has occurred to First Community.