CDs - What are they and how do they work?
A CD or certificate of deposit is a safe way to invest your money, if you do not need immediate access to these funds. When you put your funds into a regular CD, you are putting your money in a Share Certificate. CDs operate differently from a standard savings account because when you invest your funds in a CD, they're locked in for a specific amount of time, and your funds can't be touched until the time period is up. Important note, there are different types of accounts that FCCU offers, to see our full offering, please visit FCCU.org/CDs.
However, during that time period, your funds are earning interest. When you deposit your funds in a CD with FCCU, your funds earn interest that is compounded daily and credited monthly. This can help you earn money that otherwise would've just been sitting in the bank. Below is an example of how much you would earn with an FCCU Regular CD offering a rate of 3.60% APY* for 18 months, which compounds daily and the interest accrued is then deposited monthly.
CD Example: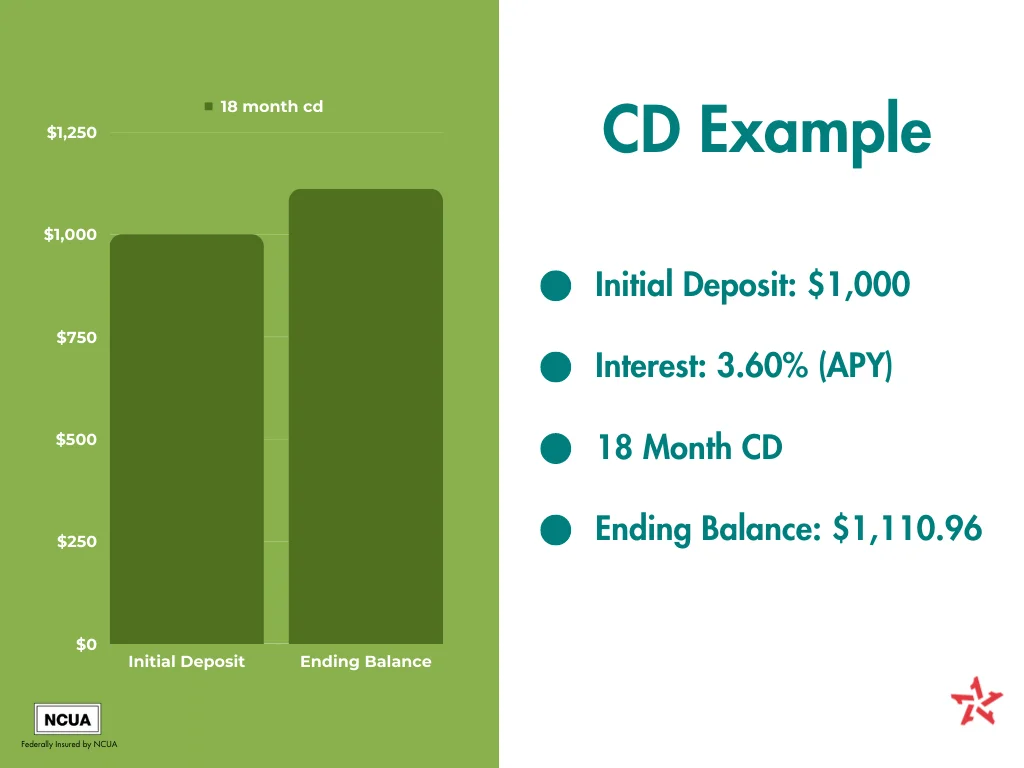 As you can see in the example above, if you invested $1,000 in a CD by the end of the 18 months, you'd have earned $110.96 in interest, whereas if you'd have left that same amount in a standard savings account for 18 months you'd have only earned around $1.95, based on the national average provided by Bankrate.com. If you aren't planning on using the funds in the time period anyway, you might as well make your money work for you and invest in a CD with FCCU!
*APY is Annual Percentage Yield. APY assumes dividends remain in the account until maturity. All accounts must remain open through the maturity date to be paid the accrued interest. Interest on certificates is compounded daily and paid monthly. Rate current as of time of this posting on 10/31/2022 and are subject to change. Please visit FCCU.org/CDs for current rates. A penalty may be imposed for early withdrawal.
Federally Insured by NCUA
---