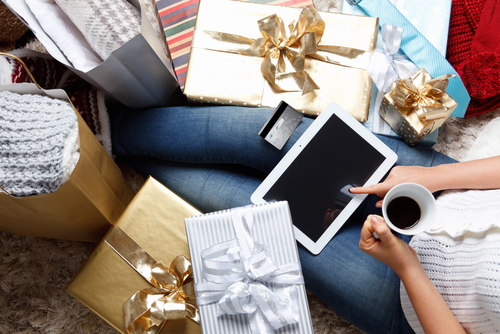 Holiday hacks to not get hacked.
Don't become a Grinch this holiday season because cybercriminals steal your information. Instead, get one step ahead and shop securely with these helpful tips.
Tip #1 Protect your credit card information.
We all know how easy it is to select the autofill feature for your favorite shopping sites, but did you know this is an easy way for cybercriminals to steal your card information? Never save your credit card or banking information at checkout when shopping online. Instead, keep your wallet next to you while you're shopping online. While it may be tedious to put in the credit card number repeatedly, it'll be a lot less of a hassle than if your card gets stolen and you have to dispute fraudulent charges.
Tip #2 Make sure you're shopping on a secure site.
When shopping or entering any personal information online, you want to make sure it's a legitimate website, not a fake one a scammer put up to gather your information. To check for this, look for a "lock" icon in the browser. This icon tells you that you're shopping on a securely connected site. Plus, when looking in the browser, check to make sure the site you went to starts with HTTPS, as this also is an excellent indicator that your site is securely connected.
Tip #3 Be proactive before you go shopping.
When going shopping, see if your card has any unique controls that can allow you to set spending limits and get notified every time it's used. This is a great way to help ensure you know when and how often your card is being used to prevent any unwanted charges on your card. If you have an FCCU debit or credit card, make sure to sign up for the FCCU Card Manager app. It will give you more control over your card to ensure no unwanted charges occur. Don't have an FCCU credit card? Apply here.
Tip #4 Change passwords for every website.
When shopping online, just about every website wants you to create an account to check out. As you create accounts across various websites, it may be easier just to use the same password repeatedly, but this is another easy way a cybercriminal can steal and take advantage of your information. All it takes is for one of the sites to be compromised, and now every account you made with that email and password could be compromised, so always create and use different passwords for every website you have an account with. A great way to keep track of multiple passwords is with a password manager app.
*Always sign up for Two-Factor Authentication wherever available for additional security.*
Tip #5 Watch out for phishing emails with holiday deals.
This is one of the most popular and effective ways for cybercriminals to hack your holidays. While many stores will be sending you some pretty sweet offers this time of year, don't be too quick to click on the buy now button before doing some research. When you get emails, always verify the store it came from as cybercriminals like to spoof some big-name companies, so just because you know the company doesn't mean it's really from them. Always go to the company's website or give their customer service line a call if the offer seems too good to be true or you don't remember signing up for emails in the first place.
Remember, cybercriminals like to play on your emotions, and during the holidays, emotions are running high, and there are a thousand things going on to further distract us. Don't let your holiday get hacked; instead, use these tips to help make your holidays merry and bright.
---