We believe that everyone deserves a quality education and the GENIUS Card supports this mission. 1% of all purchases made with the GENIUS Card will support education in our community. Even better, we give you the power to choose what school district/private school you would like to support in the Greater Houston Area.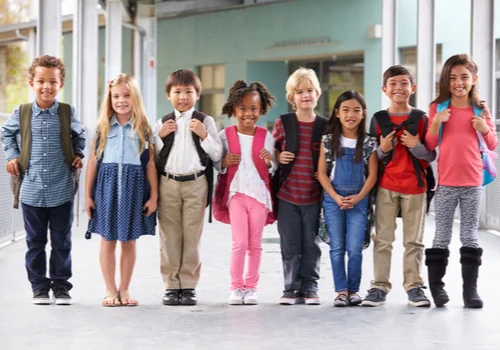 Support schools in your community with every swipe
1% of all purchases support education in our community.
Help support a school district/private school in your area today.
Join us to support education today for a better tomorrow.
Application and Solicitation Disclosure
Apply online today
When will the school district/private school receive the 1% donation?
Annually, in May, FCCU will calculate 1% of all purchases made between May 1st and April 30th to finalize the annual donation for each school district/private school based on member's selections of the school district/private school they chose to support. After donations have been made, your 1% calculation will start over in May. For example, in 2022, 1% of purchases will begin accruing on May 1, 2022 and will be tracked through April 30, 2023. Donations will be made in May of 2023.
What if the school I would like to support is not currently an option?
We are happy to review a request to add a school district/private school to add to our list. A branch representative can assist in submitting the request form. Our team will review and respond within 7 business days with a decision on whether we are able to accommodate the school requested.
Am I able to have both a GENIUS Card and a Rewards Card?
Yes, as long as the member meets all credit criteria and illustrates the ability to repay both cards.
If I change to a GENIUS Card, will my card number be the same?
No, GENIUS Cards must be issued with a new card number.
Certain credit criteria apply. Rates and terms subject to change without notice. GENIUS Card is open to all members, age 18+. Intro rate of 0% APR for first 12 months valid on purchases and balance transfers for new cardholders only. After intro rate expires, rate will be between 10.99% APR and 17.99% APR based on creditworthiness.
1% of all purchases support education in our community. Funds will be awarded annually in May to local Education Foundations to support education. Primary cardholder may select the school district/private school that their 1%  of purchases will support. All additional credit cards associated with the primary cardholder's credit card will automatically support the selected school district/private school as well. Cardholders may change their school district/private school selection at any time. The school district/private school identified as of April 30th each year will receive 1% of the value of the cardholders purchases annually in May. If no school selection is made, 1% of purchases will support Spring Branch ISD. 1% value of purchases have no cash value and cannot be transferred to others. Minimum monthly payment of $18 or 3% of balance, whichever is greater, required each billing cycle. Refer to your tax advisor to determine eligibility for any tax deductions. To read full Terms and Conditions,
click here
.
Note: A fee of $5 or 3% of the amount of each balance transfer, whichever is greater, will be assessed for each balance transfer completed from a non-FCCU card to an FCCU Credit Card.
In order to qualify for membership, First Community invites anyone who lives, works, attends school, or worships in the Texas counties,
fccu.org/counties
, we serve, anyone employed by a Select Employee Group,
fccu.org/seglist
, or anyone that is a relative or family member of an FCCU member or employee to reach their financial goals with us.